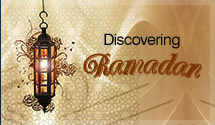 DISCOVERING RAMADAN
Sheikh Yusuf Estes
A wonderful example of how you should spend your days of Ramadan and striving to earn great rewards.
Watch it
PERSONAL CALENDAR MAKES YOUR RAMADAN WORK!
Get Organized, Create Tasks List and Email Reminders Start Here

Wisdom Behind Fasting Ramadan
Sheikh Yusuf Estes
Listen!

10 Points for Fasting
Sheikh Yusuf Estes
Read!

Ramadan Wallpaper
Decorate Your Desktop
Download!

Taraweh
Pre-recorded From Mecca
Watch it!